When you are faced with a problem, how do you go about solving it? Do you let it overwhelm you, or do you flex your problem-solving muscles and figure out the best solution?
People who throw themselves at their problems or allow themselves to be overwhelmed often become frantic and confused. They usually end up taking a haphazard approach to thinking, and then they are amazed when they find themselves floundering and making no progress.
Luckily, there is a much better way.
I'd like to introduce you to a problem-solving process that can help you face and tackle any type of challenge. With these 10 problem-solving strategies, you will strengthen your abilities to always find a solution while enabling yourself to see real progress.
Once you begin to execute this approach, you will no longer shudder at the first sign of a problem and instead feel confident to face it right away.
What Are Problem-Solving Skills?
Problem-solving skills are essential in all areas of your life. But before we discuss these key skills, we first need to define what a problem actually is.
What Is A Problem?
A problem can be defined in one of two ways:
"Any question or matter involving doubt, uncertainty, or difficulty; a question proposed for solution or discussion."
The Encyclopedia of the Sciences of Learning explains that a problem:
"…is generally considered to be a task, a situation, or person which is difficult to deal with or control due to complexity and transparency. In everyday language, a problem is a question proposed for a solution, a matter stated for examination or proof."
In short, a problem is something that's hard to deal with and needs to be solved.
You probably don't need me to tell you that we encounter all kinds of problems in our lives every day, from small things like getting stuck in traffic to major events like being diagnosed with a chronic illness.
Examples of common problems in the workplace might include:
Lack of motivation and/or boredom

Discrimination

Conflict with boss and/or coworkers

Performance issues

Burnout and/or stress

Bad working conditions
Or maybe you're dealing with problems in your personal life. For example:
A strained marriage or divorce

Financial worries

Health issues

Grief over the death of loved ones
No matter what you're facing, it's important to actively cultivate your creative thinking and learn problem-solving techniques. 
When you're able to solve problems effectively, you will enjoy greater satisfaction in life. Your relational skills will improve and your problem-solving abilities will make you a hot commodity in the workplace.
The Importance of Problem-Solving
We solve problems daily in all aspects of life. People who are good problem solvers are more likely to be successful in getting around obstacles and achieving their desired end result.
What's more, solving problems doesn't only help change your external circumstances. You'll also feel happier and more confident in yourself, knowing you can solve future problems. 
Problem-solving allows you to:
Fix things that are broken

Address risk

Improve performance

Seize opportunity
The ability to solve problems will make you more attractive to hiring managers. In many cases, you might be asked in a job interview about your problem-solving skills. 
It's smart to think of an example ahead of time–a problem that came up at your last job and how you solved it–so you'll be prepared. You can also mention the soft skills listed above: 
"My communication skills, flexibility, and ability to think outside the box help me deal with problems in a timely manner."
The Problem-Solving Process
If you're setting out to solve a problem, what should you do first?
This is a difficult question to answer because every problem is so different. It's hard to define a one-size-fits-all approach to problem-solving. However, there is a general framework that you can use to help solve problems.
The problem-solving process is often broken down into seven steps:
Identify the issue and its root cause

Understand every angle of the problem

List possible solutions

Evaluate the options

Choose an option

Act on it

Evaluate the results
I'll explain this process and each of these steps, plus a few bonus steps, in more detail later in this post.
The important thing to understand now, though, is that you can use a structured process to improve problem-solving skills. You don't have to shoot in the dark–simply follow the steps listed in this process.
Problem-Solving Skills
More good news: The process outlined above isn't the only way to solve complex problems.
You can also work on things like your communication skills, analytical skills, and other key skills in life that will make you a better problem solver.
These soft skills go hand in hand with being able to come up with solutions quickly.
So what kind of skills should you cultivate to become a better problem-solver?
Focus on the following:
Brainstorming

Data gathering

Creative thinking

Communication

Teamwork

Analysis

Time management

Troubleshooting

Initiative

Flexibility
I know this is a long list, but you don't have to do everything at once.
Even more, chances are you've already picked up some of these skills in your daily life without even realizing it. But keeping these skills in mind as you practice solving problems will help you become better at not only working through problems, but at everything you do.
10 Problem-Solving Steps To Follow
In this 10-step problem-solving process, I'll walk you through how to identify and implement the right solution to the problem at hand. In learning these steps, you will develop your critical thinking and elevate your problem-solving skills.
1. Have A Positive Approach
When a problem arises, it's easy to enter panic mode or envision worst-case scenarios. Before you let your mind go there, take a step back and address every problem as simply another situation.
It is a challenge that, with the right approach, you can handle. Part of that approach is thinking positively and creatively about the situation.
When figuring out ways to use creative thinking for problem-solving, I like to explore how geniuses solve challenges. They think outside the box, keep an open mind, and take a systematic approach.
It all starts with thinking positively about the problem.
Remember: it is a situation, not a problem.
Problems are a fact of life; you can't control when or how they occur but you can control your attitude. The more positive your language is, the more confident and optimistic you will be when approaching any complication.
How can you develop a more positive outlook on life? This mindset shift can take some time. 
You can't snap your fingers and instantly become a more positive person overnight. However, there are actionable steps you can take to be more positive.
Start by focusing on the good things in your life. Yes, you have problems, but you have good things too. If you're struggling to come up with anything that makes you smile, consider keeping a gratitude journal where you make an entry every day.
I also recommend positive affirmations and self-talk. Repeat phrases to yourself such as "There are good things in my life," "I can come up with creative solutions," or "I have good problem solving skills."
And of course, it's important to surround yourself with people who are equally as positive and upbeat as you're trying to be.
2. Define The Problem
What exactly is the challenge you are facing? What about this particular situation is causing you stress and anxiety? You must clearly define the problem to resolve it.
Not only should you clarify what the problem is, but you should also see what caused the problem. If you can't conclude the cause of the problem, you may need to meet with other parties involved to determine the root before moving forward.
If you are working with a group, it's important to write and rewrite the problem until everyone agrees that the problem is clearly and correctly defined. When the issue is clearly defined, the solution may be obvious. But you may never find the solution at all if the problem isn't defined.
Need help figuring out where to start? Refer to the list of problems included above. Remember, a problem is something that's hard to deal with and needs to be changed or solved.
3. Think Creatively
As I mentioned in the first step, geniuses solve issues with out-of-the-box thinking. So you need to see the problem from every angle before you begin offering solutions.
You should think: Are there other problems that are affecting this obstacle? If so, you need to address it first.
It can be easy to have tunnel vision when you're problem-solving, but there are usually multiple things at play with any dilemma. Zoom out from the situation at hand and see all contributing factors to the issue and listen to everyone's point of view.
Meeting with others who may be involved in the process can offer you more brainpower to shed light on the problem. That's why teamwork is so important. You can work together to look at what the issue is affecting, what is affecting it, and how to solve it.
It might feel as if you can work faster on your own. But when you collaborate with others, you'll be able to come up with higher quality solutions.
In fact, statistics show that 86% of employees and executives say lack of collaboration or ineffective communication causes workplace failures.
Don't be afraid to sit down with people involved in the problem to work things out. People outside the problem can also offer a valuable third-party opinion. Their advice and ideas may actually be more helpful because they don't have a personal stake in the issue.
4. Brainstorm Solutions
Part of addressing the situation from different directions is to come up with not just one but several solutions. There are likely to be multiple solutions to any single problem.
The first conclusion that comes to mind may not be the best one, but the more you focus, the more solutions you will find. That's why brainstorming all possible resolutions is an essential step to problem-solving.
If you're brainstorming together with a group of others, make sure to define a clear goal for the brainstorming session before you begin. Allow people time before the meeting to reflect on the problem. This will allow them to come prepared with ideas.
Throughout the session, record any suggestions that come up. You can write them on a physical whiteboard so that everyone can see them, or simply jot them down in a digital folder. Share these notes with attendees post-meeting and assign any follow-up tasks.
As you brainstorm, it's a good idea to consider the "ideal solution." If you were to discover one way to answer every pain point you outlined when you defined the problem, what would that be? What would it accomplish?
Defining your end goal will help inspire unique ways you can get there. It can also help to pose the problem as a question and come up with conclusions to that question.
After brainstorming all potential solutions, ask yourself, "What solution will produce the best outcome?"
5. Find The Best Solution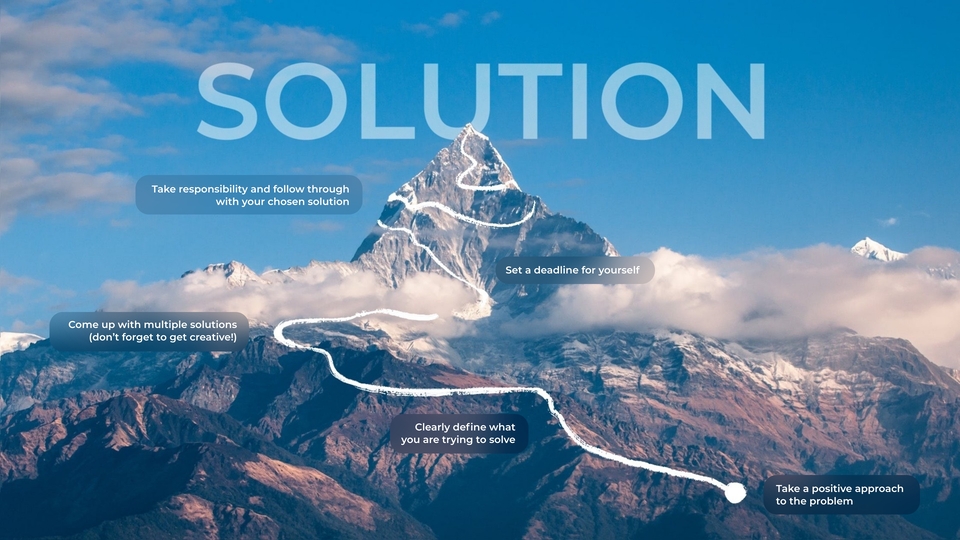 Now, not all possible solutions you outlined will be a good fit. You should be able to narrow down each method and see which is the most effective for your issue.
Do this by comparing each of the results with the one you believe to be the most ideal. Which one is the best under the current circumstances? What will successfully solve the problem?
It might take some time to work through each of your potential solutions. Some will quickly weed themselves out. In other cases, though, don't be afraid to spend some time thinking about how a given solution would work.
After looking in-depth at the various approaches, decide on the best solution for the situation.
6. Prepare For the Worst
Before you jump at the chance to solve your problem with the best-fit solution, consider the repercussions of the solution. 
Now is the time to jump to worst-case scenarios–What will happen if the solution fails? Knowing the answer to this will allow you to prepare if it doesn't resolve your dilemma.
Even if at first you don't succeed, you will learn something in the end. Don't take it as a failure.
Instead, accept that it didn't work and try something new. Thankfully, you already have a list of alternative solutions that can help you find the right one.
Preparing for the worst is not about thinking negatively. Remember: The power of positive thinking will allow you to uncover more solutions. If you can train your mind to think this way, the more solution-oriented you will become.
Instead, thinking through worst-case scenarios is simply being realistic. This allows you to create a Plan B. 
If one solution doesn't work, which solution will you try next? Come up with a backup plan. You might move on to the next solution on your shortlist, or you might tweak things and continue working with your #1 idea.
Preparing for the worst allows you to end up with the best possible solution.
7. Set A Deadline
The next of my 10 problem-solving strategies is to create a timeframe for your solution. Determine:
When to implement the solution

How long it will take to complete

When you expect to see results
What actions are necessary to meet this deadline and who will be accomplishing it? List out the tasks needed and assign each one to an appropriate person.
It's important to not only set a deadline, but also place standards on how you will measure its success. How will you know that you're making progress? How will you compare the success of this solution against the success of another?
Determine what key performance indicators will allow you to measure the success of your outcomes and set a series of short-term deadlines to report. Clearly communicate these benchmarks with everyone involved.
Make sure people understand how you're choosing to measure success, so they can be successful by your standards.
8. Take Responsibility
Now that you've found the solution to the problem, consider how it will impact the situation if it works or if it doesn't.
If your outcome doesn't work, that's okay, but it is your job to accept responsibility. Be ready to admit any mistakes and continue working to make things right.
Some of the most creative ideas never transpire because no one is assigned the authority to carry out the decision.
Taking responsibility for your decision doesn't necessarily mean you need to be the one to implement it. There may be various people involved in the problem and different jobs required to accomplish the solution.
By taking responsibility for the decision you make, you'll ensure that everyone involved knows what job they need to do, when they need to do it by, and how the successful or unsuccessful completion of that job is defined.
9. Solve Your Problem
Now, it's finally time to take action.
Execute your solution so you can reach your defined goals and learn what works best. Continue communicating with everyone on board as you all work together to solve the problem.
However, not every problem will be solved easily.
You may encounter additional obstacles as you attempt to solve the initial problem. You can overcome any drawback by tapping into your creative mind and taking action consistently and persistently until you reach your goal.
As you work hard, you can develop your capacity to achieve more in the future. Every time you successfully solve a problem, you are developing your analytical skills, communication skills, and problem solving abilities. You're also increasing your confidence.
Next time you need to solve a problem, you can look back on the successful jobs you've done before.
10. Track Your Results
The final step of my problem-solving process is to track the results. Using the deadlines, KPIs, and scheduled reports you set in step seven will let you know immediately if you're on track or falling behind.
When you reach your deadline, ask yourself if you met the goals you set out to achieve.
What worked and what didn't work? Did you solve the problem? Did you solve it with the approach and timeframe you expected?
Answering these questions will allow you to understand if you need to take further action and help you improve your problem-solving methods for the future.
The best way to learn to problem solve is to simply do it. Jump in with both feet and start coming up with potential solutions to issues that need fixing. Over time, you'll learn about problem solving without even realizing it.
However, in addition to learning "on the job," you can also take courses to help boost your skills. 
Studying subjects like project management or data analysis are good ways to help you succeed in identifying problems, thinking of better solutions, and leading others with good communication as you work together to put your solutions in place.
Problem Solving Skills to Start Using Today
You don't need to feel overwhelmed and confused when a problem arises anymore. Stress and unhappiness are simply byproducts from how you respond to those situations. 
When you enhance your problem-solving skills, you will experience determination and a sense of calmness when the next difficult situation arises.
While you may not know how to resolve most issues right away, you will know the problem-solving steps to take to uncover the best response: Define the problem, determine the cause, discover the best solution, take action, and analyze the outcome.
Follow this process over and over again and you will creatively solve your problems. After all, effective problem solving is a skill that you can develop with practice.
If you're looking to advance your skills in order to achieve your goals, get started with my Personal Development Plan. 
This resource is a good fit for someone who wants to achieve their goals and optimize their success. I walk you through how to set goals and plan ahead the right way. As you advance your problem-solving skills, you will experience more success in your daily life–for big picture items and small ones alike.


« Previous Post
The Power Of Positive Thinking
Next Post »
Self-Discipline Habits To Improve Your Life
About Brian Tracy — Brian is recognized as the top sales training and personal success authority in the world today. He has authored more than 60 books and has produced more than 500 audio and video learning programs on sales, management, business success and personal development, including worldwide bestseller The Psychology of Achievement. Brian's goal is to help you achieve your personal and business goals faster and easier than you ever imagined. You can follow him on Twitter, Facebook, Pinterest, Linkedin and Youtube.
How to become successful

For more technology Updates

Latest Jobs in Pakistan

Best Scholarships for Needy students